Happy Sunday!
As I'm sure the majority of you will know, last Sunday was the 86th Academy Awards, also known as The Oscars. For some odd reason, I've still not gotten round to watching the whole show yet only many, many clips of the beautiful Ellen DeGeneres and all the actresses I regularly obsess over. My favourite part of any award show though is, of course, the red carpet purely because it's a reason to spend hours staring at pretty dresses, or not so pretty dresses as the case may be.
My ultimate favourite dress of the night, and acceptance speech for that matter, was worn by Lupita Nyong'o. This was literally a fairy tale in a dress. Addmitidly, it is rather different to some of the other dresses she's worn this award season, as they were much more structured and fierce.She was pretty much dressed head-to-toe in Prada, with an original 19th century gold bracelet. She also wore a lovely little custom made headband, which I've got to admit, if someone told me the best dressed person at The Oscars was going to be rocking a sparkly headband, I would have believed them, but I really think it brings the whole outfit together.
The one and only Jennifer Lawrence. Oh JLaw, how I love you. The only woman to fall over at The Oscars two years in a row and still be loved by millions. I love this dress, although I can't really decide if it's red or orange. I think it's fitted perfectly and is incredibly flattering as a result.
Next up is Cate Blanchett wearing a beautiful Armani dress from the Fall 2013 collection. At first, I didn't really like this dress as I thought it was rather nondescript as it could easily get lost amongst all of the other dresses, but it has really grown on me. All the intricate detail on the dress really shimmered in the camera flashes. On the runway, this dress was no where near as flattering as it is on Cate. This dress was paired with some large, statement earings and minimaljewellery elsewhere in an attempt to keep all eyes on the dress itself. My only criticism about this dress is that,in my opinion, it could do with being jut a smidge shorter.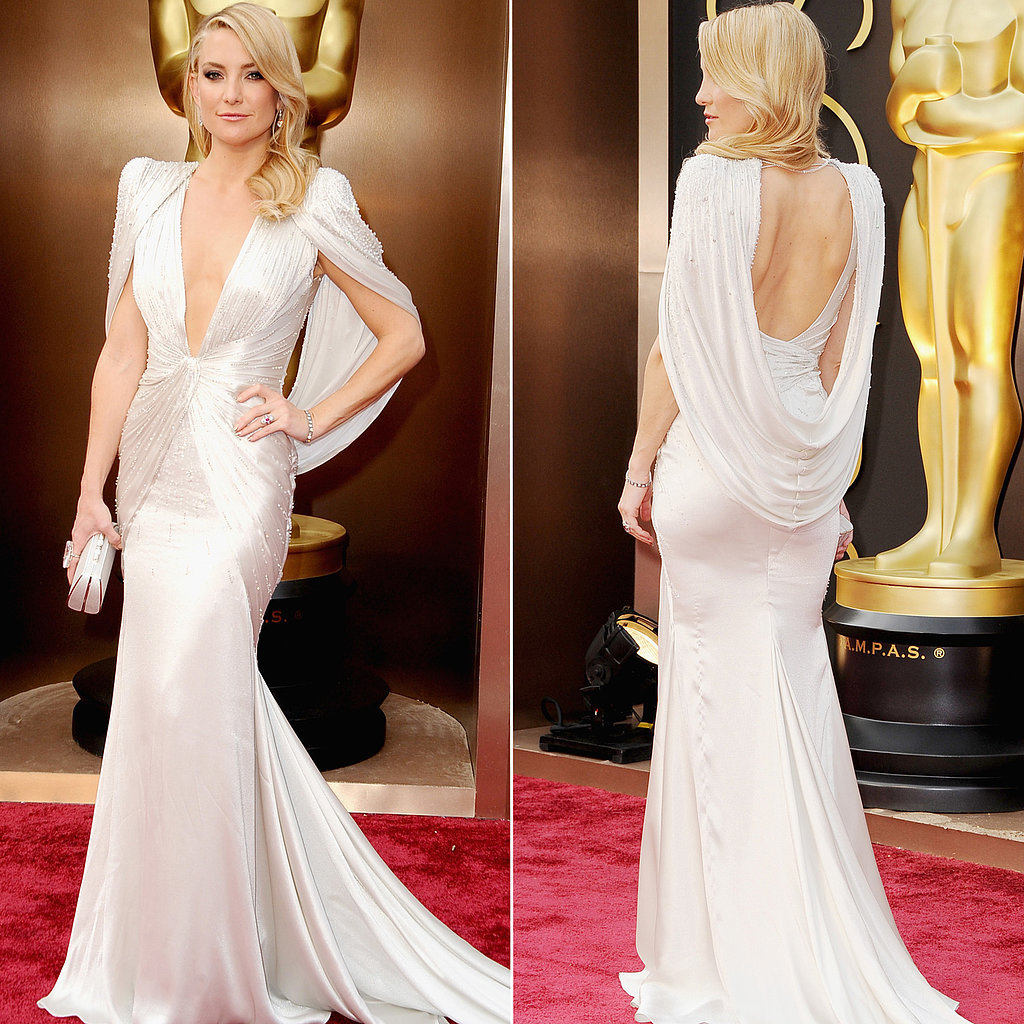 And last, but certainly not least, it's Kate Hudson. This dress is stunning. I think I'm in love. It's fitted perfectly for her, which is key as a lot of erm, let's say risky parts, on show. What makes this dress really stand out is the little cape attached at the shoulders drooping down to reveale a low back line to the dress. Gosh, I don't really know what to say other than the fact that I love every single inch of it.
Thanks for reading guys, see you on Wednesday!